Brookville's Fibre To The Home Network construction will begin in early May 2019 and continue until completion in the fall of 2019.
---
May 31 2019
Our construction crew is waiting on PVC Contractors who are contracted by  Bell, Union Gas and Milton Hydro to complete locate markings and provide us with our locate drawings so that we may proceed. Unfortunately they have not been able to complete this work yet and we have escalated with Ontario 1 Call. We cannot legally start our construction until all the other under ground utilities have been located. Ontario 1 Call has been notified of the delay as well and we hope that we can have this resolved promptly. Our crew is ready to start work as soon as these locates are completed.
May 3 2019
Due to the rain over the last week construction is behind about one week. An update will be posted early next week as we anticipate the warmer weekend weather to help get us back on track. Construction will begin with the following streets and we anticipate service being available by early June so long as the weather cooperates.
All homes on Taylor Ct
All Homes on Cameron Dr
Home between the intersection of Taylor CT and Amos Dr to 11260 Amos Dr
Amos Dr – Estimated June availability.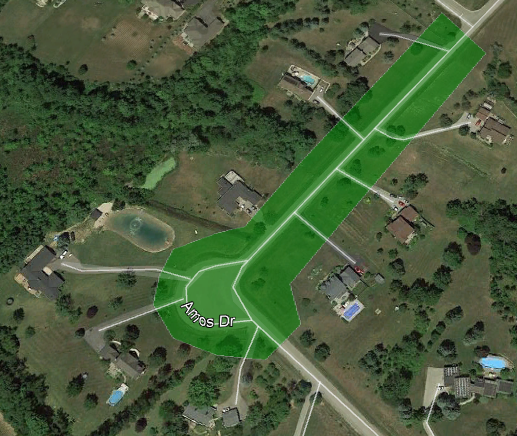 April 19 2019
Construction is on track to proceed around May 1st 2019.  Updates will follow shortly.
April 12 2019
Construction will being in early May 2019 on our Brookville Fibre To The Home network. Plans have been approved by the town of Milton as well permits have been issued. Over the next few weeks you will start to see our construction crews in the area. You will also notice that locate flags and paint markings will appear in the area these markings are placed where existing underground infrastructure exists and is a requirement before construction can begin. The flags will be removed by our crews upon completion in the each area and the paint used will wash away and leaving no permanent marking.
The following area will see construction starting around the first week of May.
Estimated Construction between May 1 and May 30th
Cameron Dr between Guelph Line and Amos Dr.
Amos Dr to Taylor Ct
Taylor Ct
We estimate service to be available to the homes on the street above by May 30th.
June 1st to June 30th
Amos Dr between Taylor Ct and 11260 Amos Dr
Guelph Line from Cameron Dr to Purdy Dr
Purdy Dr from Guelph Line to Inglis Dr
Rutledge Way from Purdy to Inglin Dr
We estimate service to be available to the homes on the street above by June 30th.
The following streets will see construction starting in July with specific details to follow in the coming weeks. Construction will proceed in the order shown below.
Inglis Dr
Menzies Ct
McPhail Way
Guelph Line from Purdy to 15 Side Road
15 Side Road to Amos Dr
Amos from 15 Side Road to Milne Ct
Milne Ct
Amos from Milne Ct to 2091 Amos Dr
Blacklock St between Amos Dr and Guelph Line
McFarland Ct