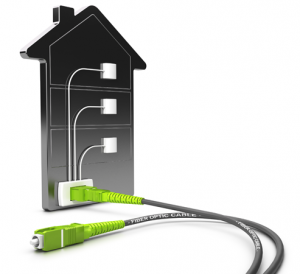 Fibre To YOUR Home!
Fibre To The Home also known as FTTH uses fibre optic cable to deliver the fastest High Speed Internet service to your home. Traditionally fibre optic service was used to provide service to businesses and residential neighborhoods with a dense population. At Standard Broadband we are connecting rural communities with a next generation all Fibre Optic network delivering Internet speeds never before seen along with next generation IP Television service.
Along with increased service options and the fastest Internet available in the community fibre optic technology is future proof allowing our network to grow with user demand without having to replace the physical cable entering your home. Rural FTTH connected properties also see an increase in property value when time comes to sell your property.
Visit our construction details page for detailed information about construction in each community we are currently working in as well as answers to commonly asked questions about Fibre To The Home construction.
Our Fibre Communities
Standard Broadband Fibre is available to the homes in Ballinafad, Moffat, Brookville, Silver Creek and Puslinch. Please select your community below to learn more about the service availability and options for your home. Our customer service team can also be reached at 1-866-569-4147 and would be happy to answer any questions you may have.