Fibre To The Home In Waldemar

Standard Broadband is excited to extend our Fibre To The Home network to the Waldemar community, but we can't do it without your support. We have been providing service to rural communities since early 2000 using a variety of wireless technologies including as of 2013 our own LTE network. Our Fibre To The Home network is a continuation of our commitment as an organization to bring communications to rural communities.
We held an information meeting on Thursday September 13th 2018 at the Amaranth Town Hall.
Our fibre network will deliver crystal clear telephone service, Ultra 4K HD TV and of course reliable, affordable and extremely fast Internet service with speeds never before seen in a rural community.
Available Internet Services
Along with our telephone and IP TV service, the Internet packages below will be available to your home once connected to our fibre optic network.
FTTH 50Mbps
$99.99/mo
50Mbps Download
50Mbps Upload
Unlimited Bandwidth
FTTH 100Mbps
$129.99/mo
100Mbps Download
100Mbps Upload
Unlimited Bandwidth
FTTH 150Mbps
$159.99/mo
150Mbps Download
150Mbps Upload
Unlimited Bandwidth
Questions, Details and Answers.
Service Area
Our proposed network will provide service to the area below.
Church StJohn StHenry StMain St
Russell Hill Rd
Peter St
Peter Crt
St. John St
Evans Ave
James St
Station St between 9 Line and 10 Line
Mill St From Henry St South to Church St
10 Line between HWY 9 and Henry St.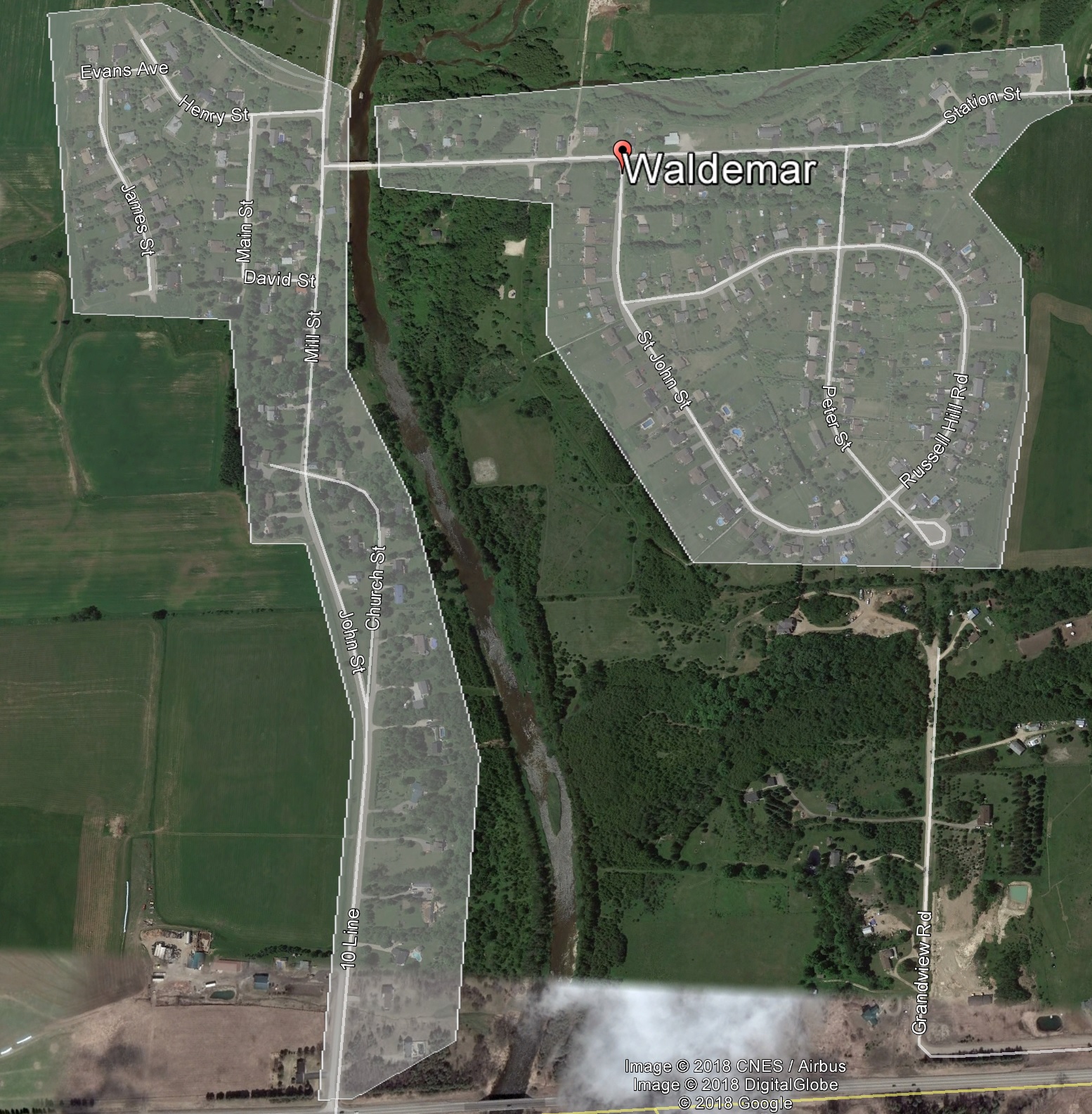 How much does the network cost to build?
The total cost to build the network to service the Waldemar community is $530,000.00. The Canadian Government unfortunately does not have any grant or funding programs that cover last mile network builds. Standard Broadband will be funding all the capital to build the network in your community.
Can I have fibre installed without service?
A subscription to one of our Internet services is required in order to have our Fibre optic service installed to your home.
How much will installation cost?
Standard Broadband is seeking commitment from 150 residents (80% of our proposed coverage) that they will subscribe to the network. If we able to obtain this level of community commitment then the installation fee will be $1300.00 for those that commit during our initial build. Should we obtain more commitment the installation fee will be reviewed and may be adjusted.
What happens if there is not enough commitment
Unfortunately if there is not enough community commitment we will not be able to proceed with the network build, we will still offer our wireless service as we provide today.
Tower on Russell Hill Rd
Our tower that is located on Russell Hill Road will be removed in accordance with our by-law exception, however Standard Broadband will continue to service the area as we have made arrangement with two other existing tower sites so we will continue to provide service even when the tower is removed.
How do I show my support?
To show your commitment please complete the form on the right hand side of the page, there is NO FINANCIAL COMMITMENT by completing this form it simply helps us to determine if there is enough interest to move forward.